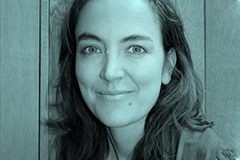 Head of Exhibitions, The Photographers' Gallery
Clare Grafik is Head of Exhibitions at The Photographers' Gallery in London. She has worked in a number of public institutions in London including the ICA, Whitechapel Gallery, Hayward Gallery and National Portrait Gallery. She has worked on exhibitions and projects with artists and photographers including Lise Sarfati, Isa Genzken, Larry Sultan/Mike Mandel, Taryn Simon, Katy Grannan, Antoine D'Agata, Cuny Janssen, Zineb Sedira and Keith Arnatt. Group exhibitions include 'The Photographic Object' and 'Photography & Collage' and 'Take Two: Drawing and Photography'.
She has been a Sessional Lecturer at Birkbeck College, London, has lectured at institutions including University of the Arts, University of South Wales, Sotheby's Institute of Art, and written for magazines including IANN, Contemporary and Art Monthly.